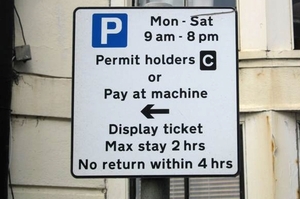 You have two main options available to you.

Parking Permits If you do not wish to move your car throughout your stay, you can park up in a pay and display, or permit bay in 'Zone C', which is Upper Rock Gardens and surrounding roads, and purchase a parking permit from us (which we buy from the council) for £10 per day.

Pay and Display Alternatively, if you wish to move your car, the best thing to do is to use the pay by hour facilities, which work out at £1.30 per hour. These also can be found on Upper Rock Gardens and the surrounding roads. Payment for these can be made in the form of coins at the meters, using the 'PayByPhone' APP on your Smartphone, or telephoning a specific number and quoting a location reference (which can be found on signposts where you park). Both of these last options mean paying via credit/debit card.

We always have parking permits available for guests, there is no need to arrange to book one beforehand.

If we can help in any way with your parking, please do not hesitate to pull up outside of the hotel to check-in and we will be more than happy to help and advise you.